Columns & Interviews
This older stuff is from 2012-2013 but still decent enough to showcase my experience authoring columns and interviewing humans.
Columns
Profiles & Interviews
Executive Profiles
---
Columns
I authored these technology and digital business columns back in 2013 and aspire to circle back to column writing once more for 2021 and beyond.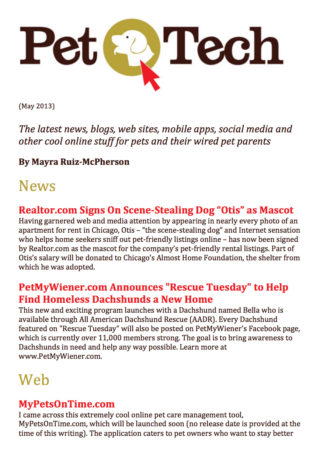 2013
I pitched the initial vision for the Pet Tech column, a content area dedicated to pet-related technology trends, products, and services, to The Virginia-Maryland Dog Magazine in 2013.
The magazine editor heartily agreed to include and publish the column as a bi-monthly feature limited to 1,000 words per edition.
With each insertion, my column focused on new and curious technology apps, websites, blogs, and more featuring "cool online stuff for pets and their wired pet parents."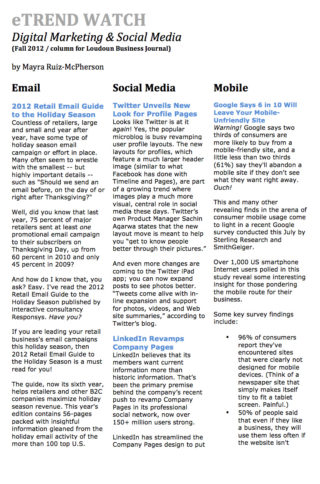 2012 & 2013
While the Loudoun Business Journal is no longer in circulation, I was invited by the journal's editor to submit two digital marketing-centric columns for their Fall 2012 and Spring 2013 editions.
The column, limited to 750-800 word count per edition, was dubbed eTrend Watch and featured digital marketing and social media marketing highlights relevant to Loudoun County's local business community.
View my column's Fall 2012 and Spring 2013 editions.
---
Profiles & Interviews
My storytelling expands into the genre of executive profiles and personality interviews, where I hone in on the most intriguing aspects of one's personal or professional narrative.

Several years ago, I wrote a collection business and everyday-people profiles for a local lifestyle magazine, Posh Seven. Their editor would first assign each interview by phone or email, define the word count, and then provide interviewee and deadline details.

Most of the profiles shared below were done over the phone or via virtual meetings.
---
Executive Profiles
Write-ups covering senior executives

2013
In addition to my digital marketing columns (see above), I also authored 1,000-word executive profiles for the Loudoun Business Journal as well.
See my profile on local business executive Bruce T. Roberts, RxAlly CEO.