The Week of the Young Child (#WOYC) is an annual event/observance hosted by the National Association for the Education of Young Children (NAEYC).
In 2015, NAEYC's #WOYC observance was a multi-hashtag event, consisting of the following themes:
Monday, April 13: #WOYCmusic
(spotlighting how music education and play benefit kids)
Tuesday, April 14: #WOYCtacotuesday
(showcasing kids doing fun food prep and cooking)
Wednesday, April 15: #WOYCworktogether
(highlighting kids collaborating)
Thursday, April 15: #WOYCartsy
(depicting kids in art or creative action)
Friday, April 16: #WOYCfamfriday
(showing kids enjoying family time)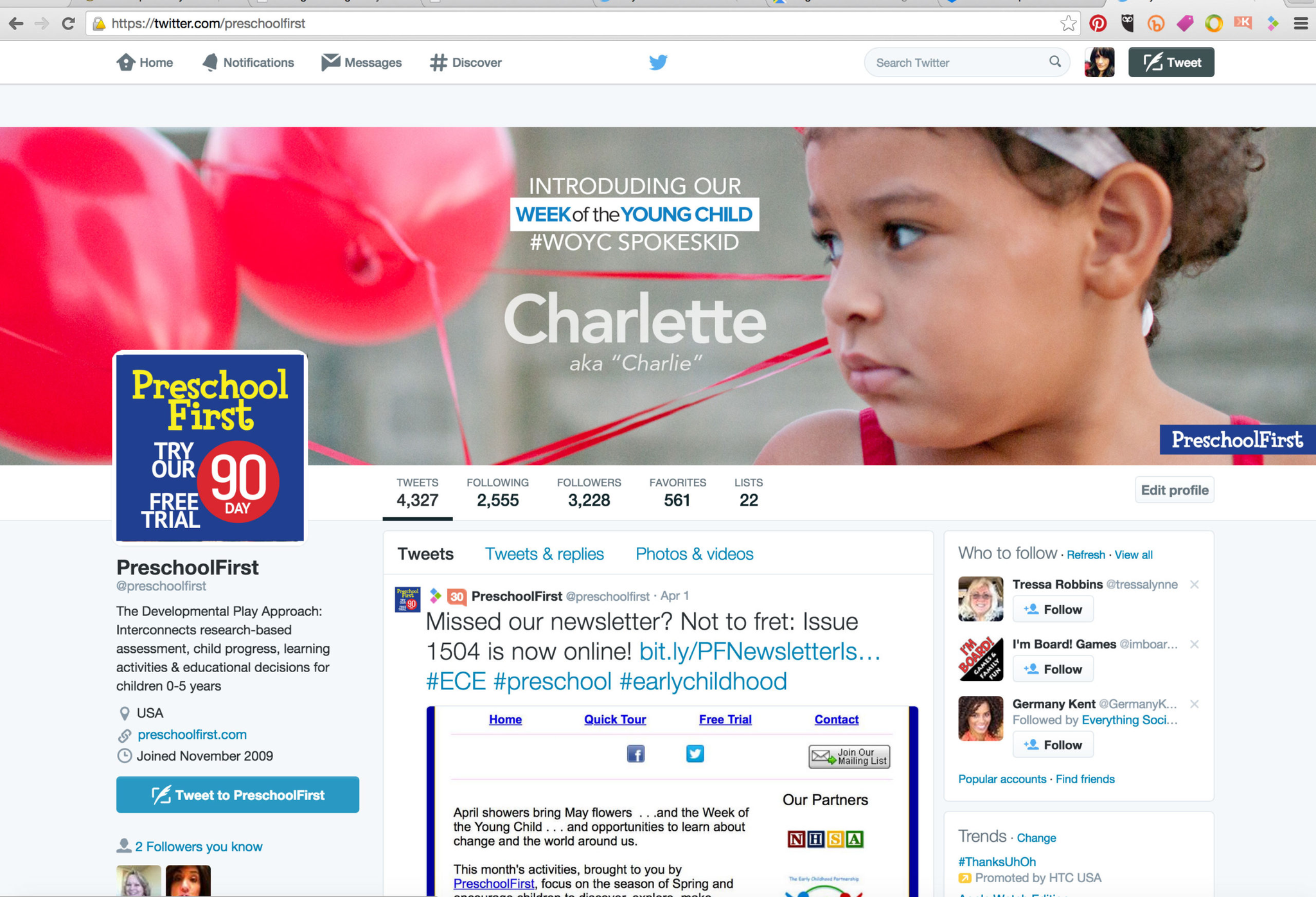 The organization I worked with at the time, The Source for Learning (SFL), had a product division — PreschoolFirst — focused on early childhood education (ECE).
The PreschoolFirst product team expressed a desire to have their product brand engage in this #WOYC event on Twitter but had no concept of how to showcase their brand in a visual or interesting way.
My creative-directed content idea was to introduce a young child as the official PreschoolFirst #WOYC "Spokeskid."
The child's week would then be visually journalized daily with each day highlighting the designated #WOYC theme.
See the various messages and social media designs (showcasing my own daughter, son, and husband whom I used as models) I developed for PreschoolFirst's #WOYC campaign below.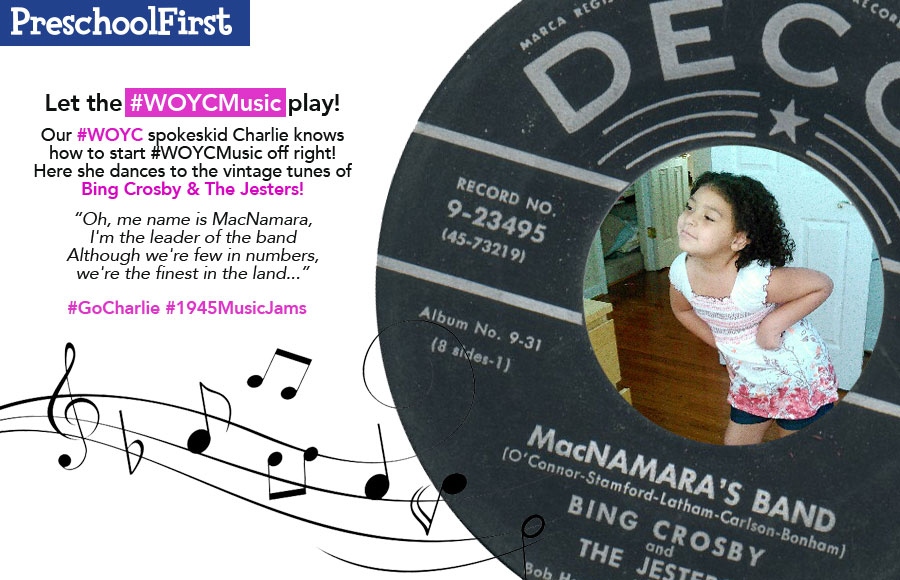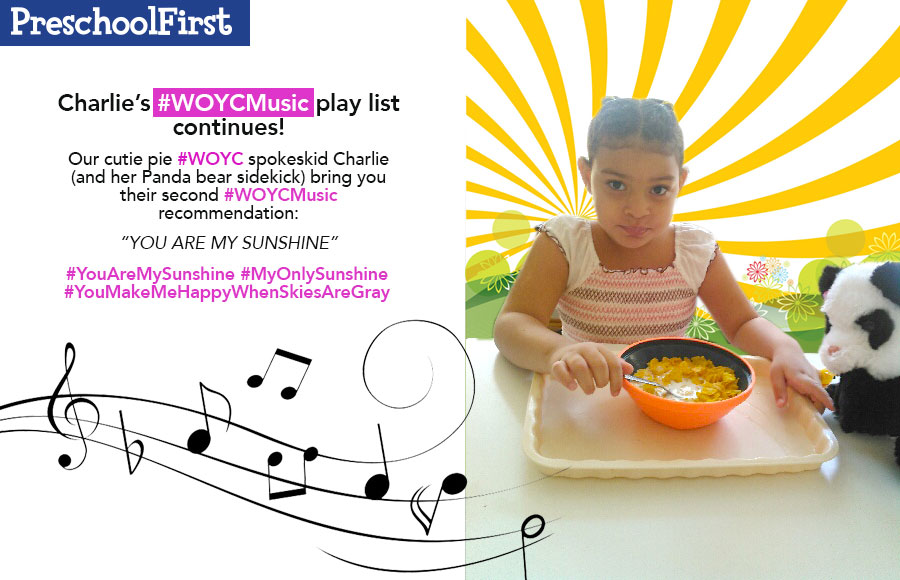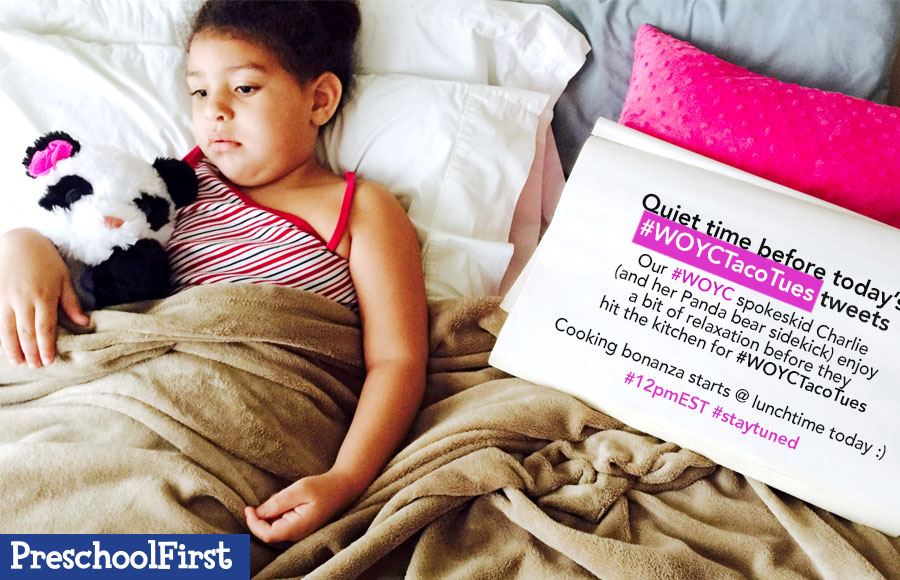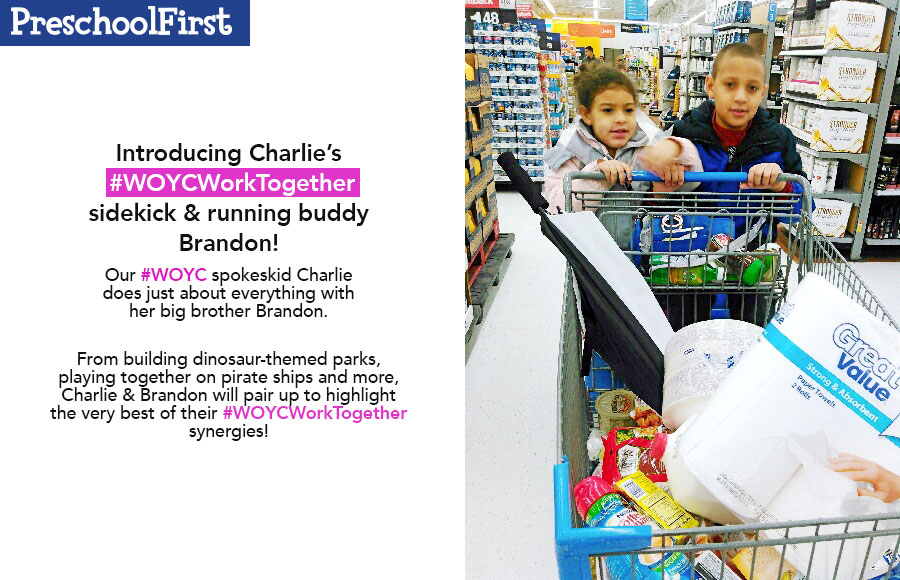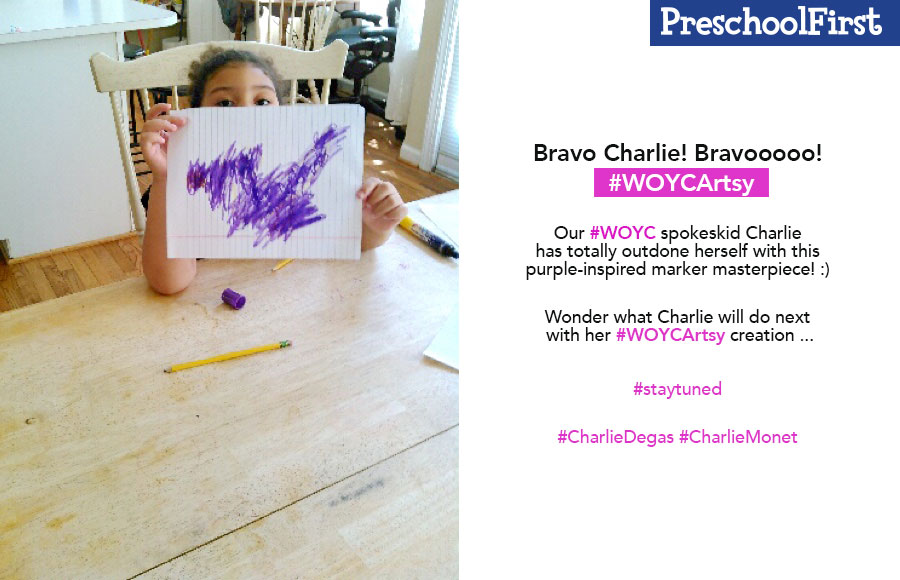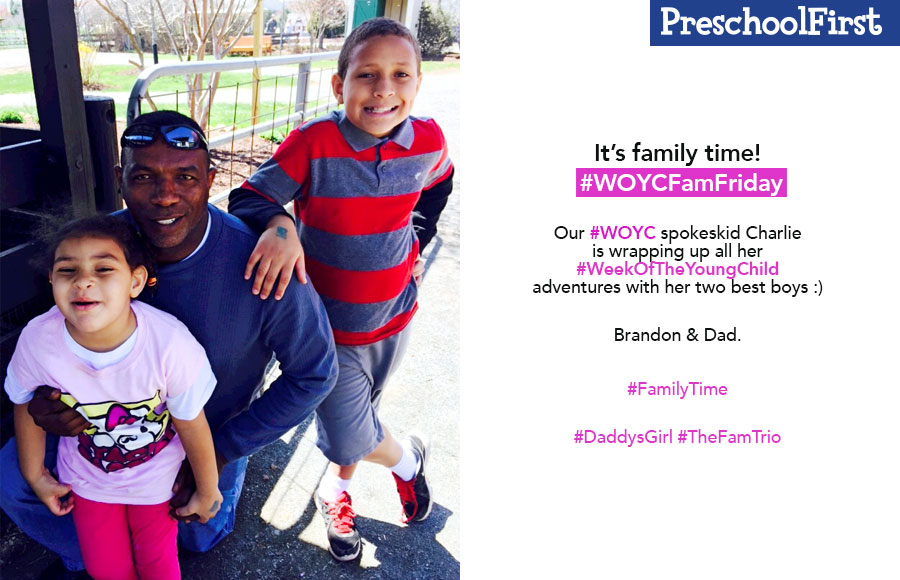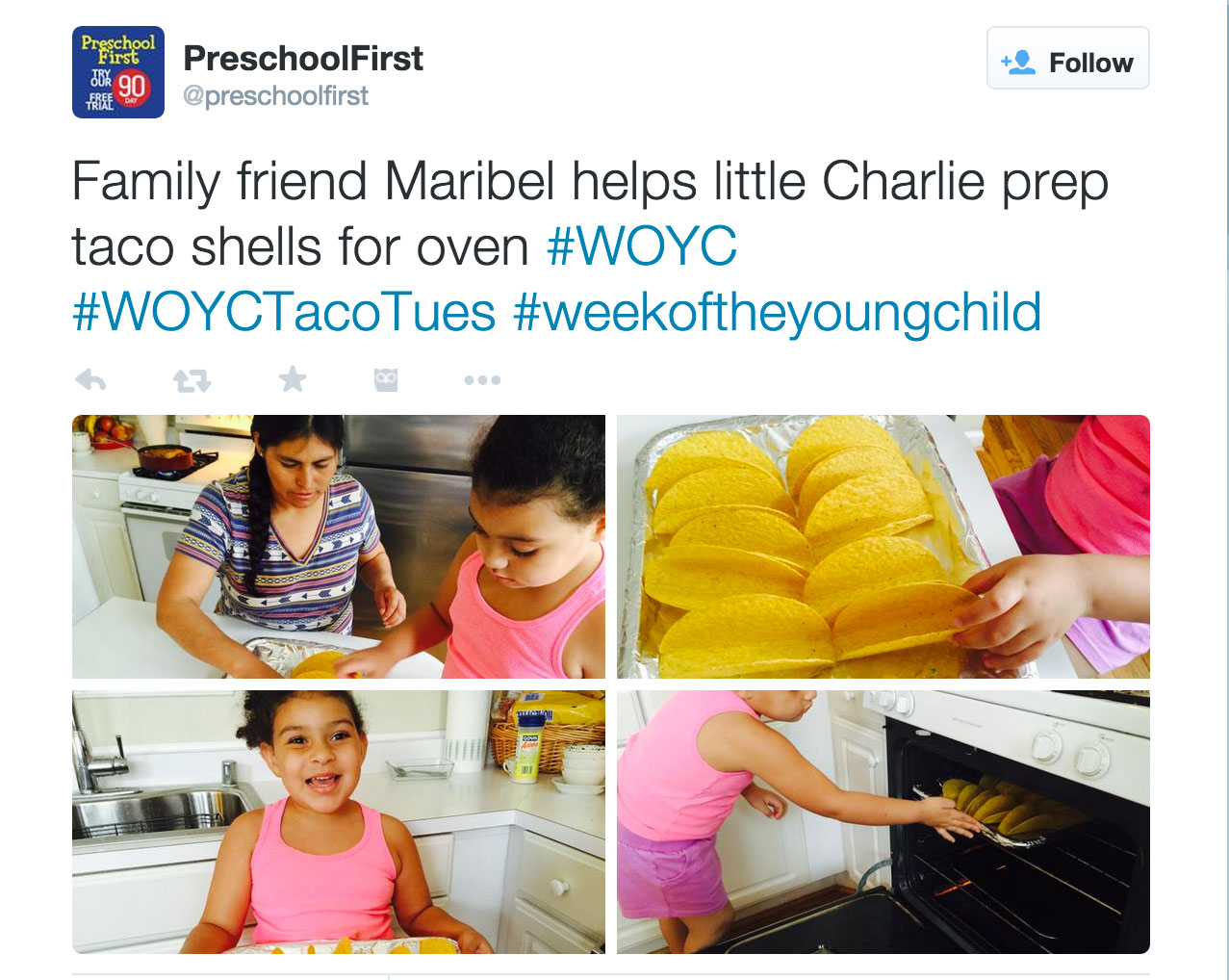 #WOYC Video content sample for "Taco Tuesday"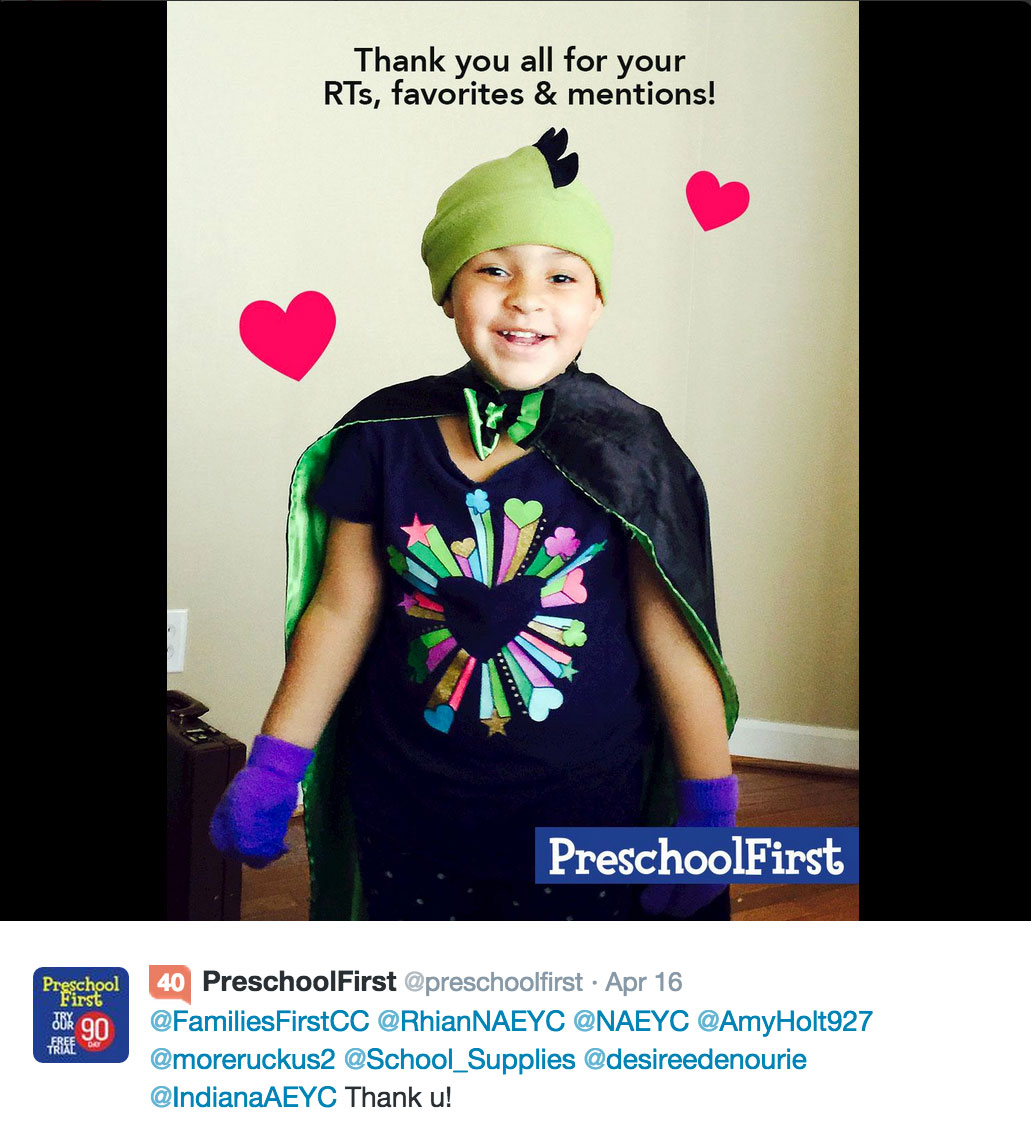 Campaign Results
PreschoolFirst and its parent company hadn't previously launched ANY kind of social media campaign.
As a result, pretty much ANY engagement derived from this campaign was to be deemed a success.
One metric of success back in 2015 was the now-defunct Klout score.
For a long time before this campaign launched, the @PreschoolFirst Twitter account had held steady at a very low Klout score hovering just above 20 (see below).

If you look closely at the Klout score 90-day graph above, which includes the #WOYC campaign time frame of April 13-17, 2015, we can see a spike indicating much higher engagement for that given week.
The graph above clearly shows the @PreschoolFirst Twitter channel's Klout score increased by at least 20 points as a direct result from this #WOYC outreach campaign.
Twitter impressions dramatically increased as well.
Impressions on Twitter also increased during the #WOYC week-long campaign (see below):

The graph above showcases the two #WOYC hashtag themes on @PreschoolFirst that gained the most traction were:
#WOYCtacotuesday (Tuesday, April 14), and
#WOYCworktogether (Wednesday, April 15).
Before & After Comparisons
Engagement Rate Success
In the below-shared table, you can see:
the LIGHT BLUE highlighted rows indicate 6 different non-#WOYC tweets published on @PreschoolFirst between January – March 2015 and their corresponding engagement levels, and
the YELLOW-PEACH highlighted rows showcase DAY 1 of the #WOYC campaign (with the designated #WOYCmusic theme) and the dramatically higher engagement rates derived from just one single day of tweeting.

Summary
Overall, this #WOYC-themed effort was PreschoolFirst's first-ever social media outreach campaign.
The campaign's deployment allowed the PreschoolFirst product team and its parent company, SFL, to:
Insert @PreschoolFirst brand on Twitter in a fun, relevant, and highly-visible way into @NAEYC's #WOYC conversations;
"Humanize" PreschoolFirst and SFL's visual storytelling efforts by journaling the #WOYC-themed adventures of their adorable "PreschoolFirst spokes kid" (people appeared more interested in engaging with messaging delivered or shared by a cute, child spokesperson rather than engaging with product-specific messaging);
Align the PreschoolFirst and SFL brands into active social media discussions about early childhood education learning.